Position:
Laboratory School Faculty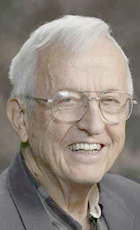 Donald Wiederanders
Donald Wiederanders, 88, of Cedar Falls, died at home on Sunday, January 19, 2014.
He was born January 1, 1926, in Clinton, son of Martin and Olivia Mix Wiederanders. He married Helen Bartleson in 1953 in Forest City; she died in 2009.
Mr. Wiederanders graduated from Wartburg College, Waverly, and then served in the U. S. Navy. He completed his baccalaureate degree in mathematics and physics at Wartburg and his master's degree at the University of Miami, Ohio. He attended several summer institutes at colleges and universities throughout the Midwest, as well as an Academic Year Institute at the University of Colorado. He taught for ten years in the public schools of Iowa and Minnesota before joining the faculty of Price Laboratory School, where he taught from 1958 through 1991. He served twice as president of the Iowa Council of Teachers of Mathematics. He served as co-author of the "Ideas" feature in The Arithmetic Teacher (NCTM) publication for several years. He was co-developer of the hands-on Elementary Mathematics Learning System and was a charter member of the Iowa Chapter of Veterans for Peace
Survived by: five daughters, Ann Redmon of Manhattan, Kansas, Lynn Kroemer of Denver, Iowa, Janet Dean of Denver, Colorado, and Jill Wiederanders and Peggy Nicol, both of Cedar Falls; eight grandchildren; six great-grandchildren; and two brothers, Dick of South Dakota and Bill of Wisconsin.
Preceded in death by: a sister, Elizabeth; a brother, Robert; and an adopted daughter, Kristie.
Memorial services: 11 a.m. Saturday at St. John Lutheran Church, Cedar Falls.
Copyright Waterloo Courier on-line edition; downloaded January 22, 2014.