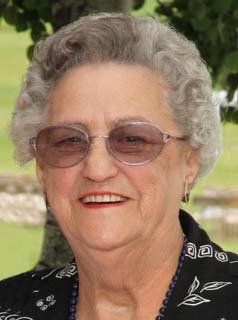 Elrita Fuller
Elrita Anna "Rita" Fuller, 79, of Cedar Falls, died Wednesday, October 12, 2011, at Sartori Memorial Hospital of cancer.
She was born June 26, 1932, in St. Mary's Ridge, Wisconsin, daughter of William and Josephine Gronemus Butzler. She married Leonard G. Harnish on July 15, 1950, in La Crosse, Wisconsin, and they later divorced. She married Harold A. Fuller on December 16, 1972, in Gilbertville. He died February 26, 2011.
Mrs. Fuller graduated from Aquinas High School, La Crosse, and later owned and operated the Busy Bee Cafe, Cedar Falls. She then worked at the University of Northern Iowa Food Service Department and was a seamstress most of her life. She was a former member of the Fraternal Order of Eagles Auxiliary in Cedar Falls and the DAV Auxiliary.
Survived by: three daughters, Kathy (Roger) Miller and Diane McClain, both of Cedar Falls, and Barb (John) Charley of Dike; two sons, Michael (La Vonne) Harnish of Elysian, Minnesota, and Richard (Felicia) Harnish of Menomonie, Wisconsin; eleven grandchildren; twelve great-grandchildren; a brother, James (Ruby) Butzler of Marshfield, Missouri; and three sisters, Mildred Lundston and Carol (Clayton) Smith, both of La Crosse, and Marlene (Dave) Tritch of Waterloo.
Preceded in death by: two infant grandchildren; and two brothers, Walter and Werlyn Butzler.
Services: 11 a.m. Monday at St. Patrick Catholic Church, with burial in Fairview Cemetery. Visitation from 2 to 5 p.m. Sunday at Dahl-Van Hove-Schoof Funeral Home, where there will be a time of sharing at 4:30 p.m Visitation also an hour before services Monday at the church
Memorial: maybe directed to the family.
Condolences may be left at www.DahIFuneralHome.com
Copyright Waterloo Courier on-line edition; downloaded October 18, 2011.