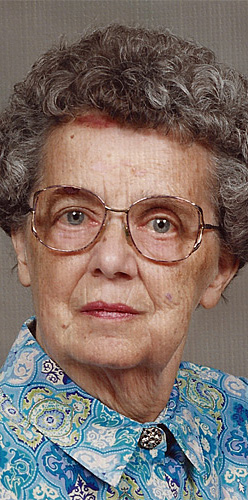 Margaret Galpin
Margaret M. Galpin, 92, of Parkersburg, died Friday, July 27, 2012, at The Presbyterian Village in Ackley.
She was born May 27, 1920, in Aplington, daughter of Frank and Tena Haan Behrends. She married Harry E. Galpin May 2, 1939, in Cedar Falls. He preceded her in death.
She attended rural country school near Aplington. She was a homemaker and worked at UNI for nineteen years, retiring in 1983. Mrs. Galpin was a member of Bethel Lutheran Church in Parkersburg.
Survived by: three sons, Gary of St. Paul, Minnesota, Keith (Connie) of Ackley, and Jim (Debra) of Denver; five grandchildren, Jeff (Susie) Galpin, Joshua (Jill) Galpin, Jared (Gina) Galpin, Erin (Shawn) Anfinson, and Kelli Galpin; five great-grandchildren, Bailey and Kennedy Galpin, Emma and Griffin Galpin, and Elliot Anfinson; and a special family friend, Bruce Halverson.
Preceded in death by: a brother, Vernon Behrends.
Services: 10:30 a.m. Tuesday at Bethel Lutheran Church, with burial in Oak Hill Cemetery, both in Parkersburg. Public visitation from 4 to 7 p.m. Monday at RedmanSchwartz Funeral Home, Parkersburg, and will continue for an hour before services Tuesday at the church.
Memorials: may be directed to Cedar Valley Hospice or Bethel Lutheran Church.
Condolences may be left at www.redman-schwartz.com
She enjoyed spending time with her children and grandchildren, sewing, crocheting, and her miniature schnauzers. She was an Iowa Hawkeyes basketball fan.
Copyright Waterloo Courier on-line edition; downloaded August 13, 2012.