Position:
Laboratory School Faculty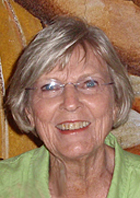 Mary Butzier
Mary Helen Rutledge Butzier, 79, of Laporte, Minnesota, formerly of Cedar Falls, died Tuesday, June 22, 2010, at MeritCare Medical Center, Fargo, North Dakota.
She was born October 4, 1930, in Fort Dodge, daughter of Reyburn Lorenzo Rutledge and Mabel Mears Rutledge. She married Kenneth Gardner Butzier in 1950. He preceded her in death.
She earned a bachelor's degree in elementary education from the University of Northern Iowa in 1953 and a master's degree in elementary education in 1978. She taught at Malcolm Price Laboratory School and Waverly-Shell Rock, until retirement in 1989. She was a member of First Presbyterian Churches and the local chapters of P. E. O. International Sisterhood. She was an active member of the Community Church of Walker, United Church of Christ, Kabekona Lake Association, P. E. O. Chapter CY, and several area arts and crafts associations.
Survived by: three sons, David Rutledge (Suzi) Butzier of Boise, Idaho, Douglas John (fiance Ann Chapman) Butzier of Dubuque, and Stuart Reyburn (Robin) Butzier of Albuquerque, New Mexico; ten grandchildren, Christopher and Logan, Nicholas and Alexander, Sarah, Benjamin and Christopher, and Matthew, Joseph and Daniel; and two sisters, Ann Rutledge Hartman of Terre Haute, Indiana, and Alice Rutledge McKinney of Yellow Springs, Ohio.
Preceded in death by: a sister, Jean Rutledge Lawhon.
Services: 2 p.m. today at Community Church of Walker, UCC. Public visitation was Saturday at Dennis Funeral Home, and for an hour before services today at the church.
Memorials: may be directed to The University of Northern Iowa Foundation--Kenneth G. Butzier Scholarship Fund, Kabekona Lake Association, the Community Church of Walker, or the P. E. O. Foundation.
Condolences may be left at www.dennisfuneralhomecom.
Copyright Waterloo Courier online edition, June 28, 2010.