FAX Services
Need to send a FAX?
The library no longer offers a public FAX machine in the building. 
Options for sending a FAX:
Visit Copyworks, the UPS Store on University Avenue, or the Cedar Falls Public Library
You may use the online faxing service, FaxScan24, to send your fax. To send a fax online, follow the instructions below.
 
Step one: 
Click on the Send Fax link located in the top right corner.

Step two:
A new window will pop up you will need to enter your credit or debit card number, the fax number and upload the documents needing to be faxed.
To upload paper documents feel free to utilize either of our KIC Scanners or our Copier/Scanner. All of which are located on the main (2nd) floor of the library.  
Once you have entered all required information, you may additionally enter your cell phone number to receive a text alerting you to when the fax has officially gone through.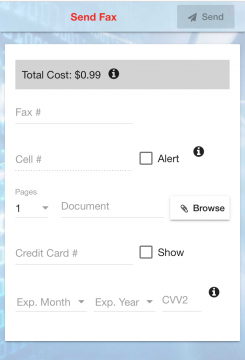 Step three: 
Lastly, you will click Send in the top right corner. If you would like to check on the status of your fax, and you did not enter your cell phone number, you may return to the FaxScan24 homepage and click on the link titled "Check Fax Status/Resend Fax for Free".